2 Trivia
Save 7%
£50
£23
per Trivia
Most Popular
3 Trivia
Save 20%
£75
£20
per Trivia
Best value
What's included?
❓ 100+ Questions in Four Categories: Explore Prophets, Quran, Seerah, and Islamic History
😄 Fun, Interactive Learning: Enjoy a question and answer format that makes learning enjoyable
👨‍👩‍👧‍👧 For All Ages: Ideal for family gatherings, friendly competitions with friends, or as an educational tool in classrooms
🎓 Deepen Islamic Knowledge: Enhance understanding of Islam's teachings, prophets, Quranic verses, and key historical events
😂 Vibrant and Engaging: Discover fascinating facts and stories about the faith
🕋 Perfect Addition to Curriculum: Enhance Islamic education in schools with this enriching game.
Join over
2,000+ happy customers
with their Islamic Trivia cards
View full details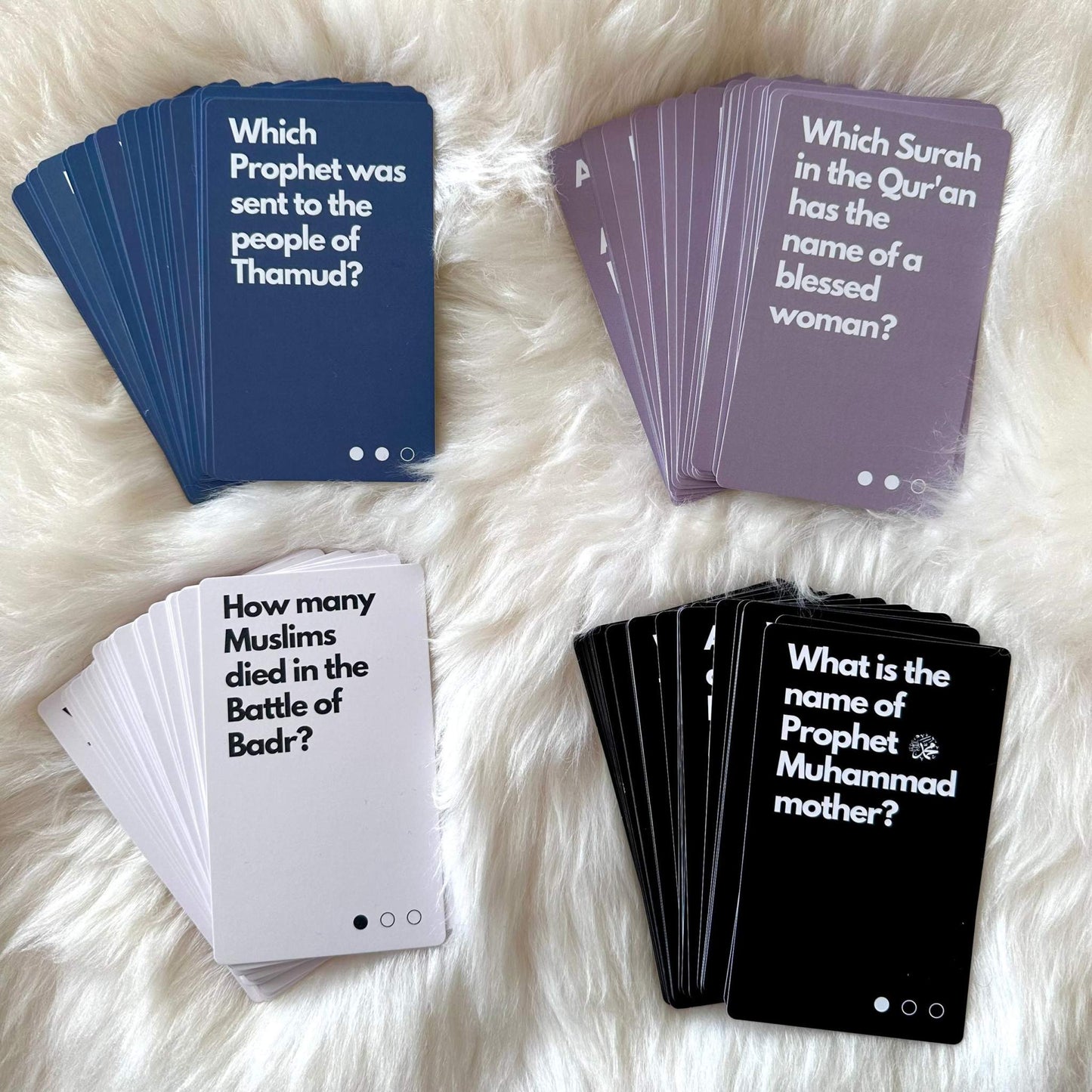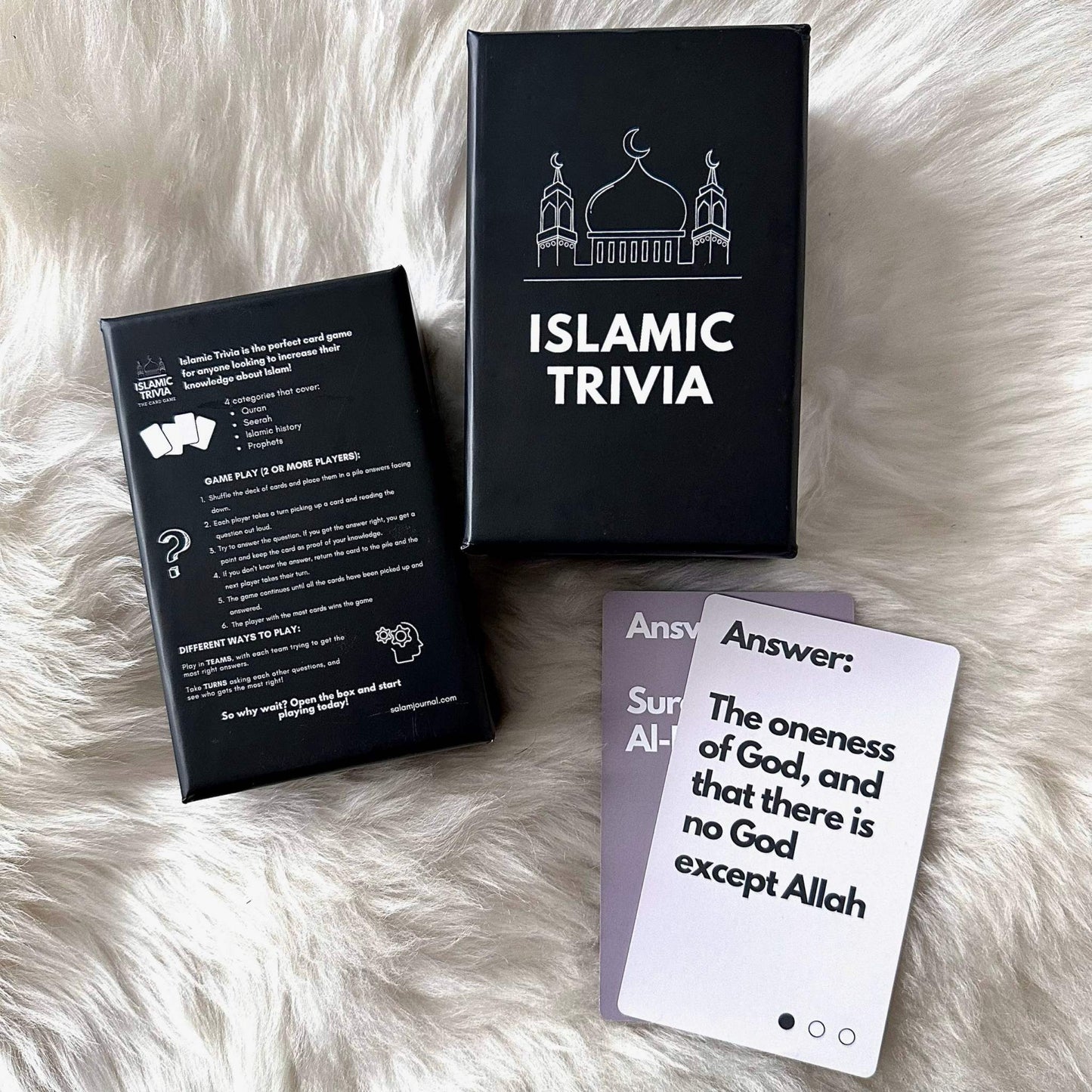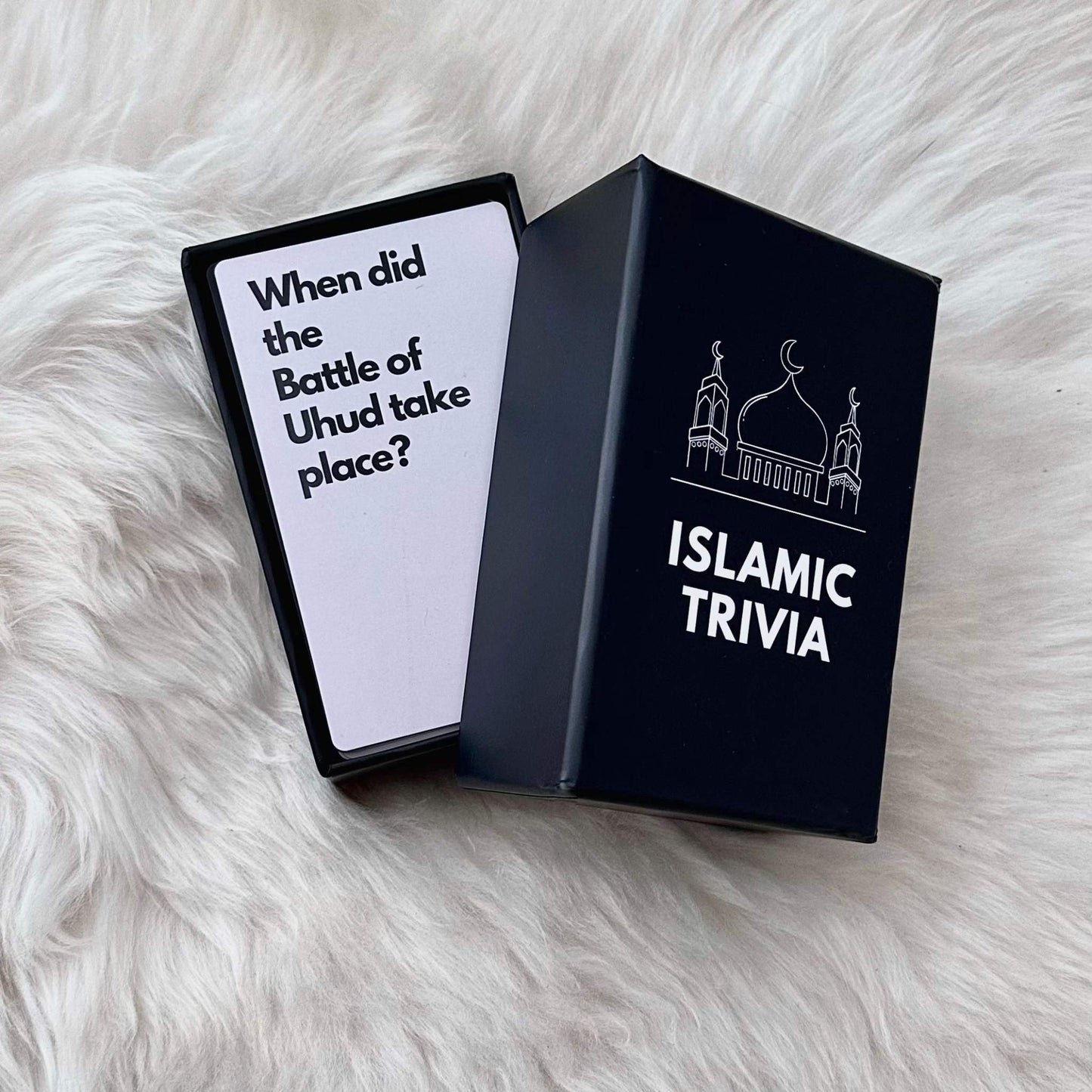 Collapsible content
What age is the game suitable for?

The Islamic Trivia Game is suitable for players aged 5+. It is designed to provide an engaging and educational experience for children, teenagers, and adults.

Can I use this game to deepen my knowledge of Islam?

Absolutely! This game is an excellent way to enhance your understanding of Islam's teachings, the lives of prophets, Quranic verses, key historical events, and more. It's an educational game that combines fun with learning.
Can I incorporate this game into an Islamic school curriculum?

Yes, the Islamic Trivia Game can be a valuable addition to any Islamic school's curriculum. It helps students learn about their faith in an enjoyable and interactive way.
How many players can participate in the Islamic Trivia Game?

The game is designed for 2 or more players, making it versatile for various group sizes.

Are there different difficulty levels for the questions?

The questions in the game are designed to be challenging yet accessible to a wide range of players. However, you can customize the game by selecting questions based on difficulty levels if desired.

What is your refund and returns policy?

Returns and refunds are easy and simple. Please get in touch and we'll send you our returns address. Once we receive the return order, we will send a full refund :)

Email: info@salamstore.co.uk
What should I do if I receive the wrong item or an incorrect order?

If you receive the wrong item or an order that is not as expected, please contact our customer support team at info@salamstore.co.uk and we will assist you in resolving the issue.
When will I receive my order?

Your Islamic Trivia game will arrive within 2-4 working days once you place the order.

We also offer expedited shipping options for faster delivery
What if I'm not home for the delivery?

If you're not at home during delivery, the courier will leave a note on your door with instructions on where to locate your order. If your order is missing, rest assured that we will either send a replacement or provide a refund, so there's no need to worry